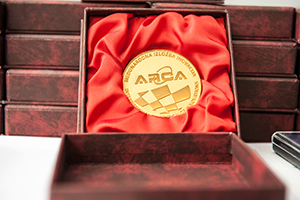 International Exhibition of Inventions ARCA will be closed with the Award /Acknowledgement Presentation Ceremony for the best innovations, projects and ideas in several categories according to Jury's decisions. Jury members are prominent experts from different fields. As per our tradition, golden, silver and bronze medals will be awarded plus the ARCA GRAND PRIX, the most prestigious award given to the best innovation at the exhibition.
ARCA awards are regarded as prestigious awards and verify unity and quality or awarded projects and innovations.
ARCA UCI's Certificate
Starting from this year's ARCA, we issue UCI's ARCA-certificate for the young inventors from primary and high schools in accordance with the current changes in educational system.
UCI's ARCA-Certificate will be issued after the Exhibition is closed, on Mentor's request, as an addition to golden, silver or bronze medal, or as a certificate on the nature of innovation presentation. UCI's ARCA-Certificate is an addition to the awarded medal or acknowledgement.
UCI's ARCA-Certificate helps the third parties in understanding candidates' competencies acquired by developing their innovations in their free time (in the course of their vocational training)
ARCA UCI's Cetificate is a description of learning outcomes acquired during innovation development with the assistance of one or more mentors.
UCI's ARCA-certificate reads short description of vocational skills related to certain field of professional activity and of competencies acquired by working on the innovation itself.
UCI's ARCA-certificate reads No of hours student spent working with the Mentor (or several mentors), hence it could serve as a full or partial vocational practice certificate. As for the Mentor, it could be a certificate on additional professional experience and used for advance in profession.
Mentor has to fill in advance all the data regarding No of hours spent on innovation, cooperation with other mentors and acquired groups of learning outcomes. Online application form should be submitted BEFORE the beginning of the Exhibition ARCA. IN THE COURSE i.e. at the ARCA itself, Jury members will evaluate learning incomes over the conversation with the Student. THEN a Jury Commissioner (person in charge for students' achievements evaluation) will sign his compliance with acquired learning outcomes and then UCI's ARCA-Certificate will be given to the UCI's President for the verification.
Once stamped ARCA UCI's Certificate becomes valid. It cannot replace an official diploma, but since it presents the nature of the acquired qualification, it can facilitate the recognition of acquired skills from the authorities.